Charles Shriner (aka dRachEmUsiK) and I collaborate as Side Dish Side Affect.   We released an  album in May 2014, and I am very happy with the result. Below is a track in the album called Fermented Stingray.
Charles probably has been performing electronic music before I even got my first synthesizer. He is a multitalented musician who runs a record label, produces albums, tours as a performer, broadcasts a weekly radio show, and runs an electronic music festival (check out charlesshriner.com for his credentials). If you need a music tech guy in Indianapolis, I strongly suggest that you contact Charles.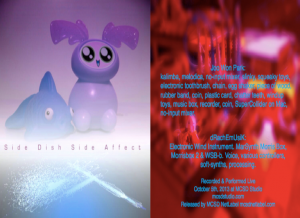 I first met him at Electro-Music Festival in 2009, and became friends ever since. I particularly remember his excellent improvisation workshops and open-mindness to all kinds of music.  Charles and I also share love of good food. We named our group after a homemade Korean dinner at my place. I still remember the taste of an oxtail dish I had at Charle's place during the recording session. Even our track names in the album are crude translation of Korean side dishes.
Please join Side Dish Side Affect when we come to your town for a gig. Let us also know a good restaurant in your town. Meanwhile, dRachEmUsiK + Onewayness is starting a tour next week. Check them out!