I love Alvin Lucier's music. I still remember the strange mental state I experienced when I heard I Am Sitting in a Room for the first time in 2000. Watching No Ideas But in Things,  a recent documentary about Lucier, reminded me that, but also taught me a few new things about his work ethics and aesthetics:
1. Lucier knows, thinks, and composes acoustics. He is fond of how sound affects rooms, ears, electronics, and everything around. He is fond of converting invisible or inaudible things in our world into sounds. I resonate with his approach on music more than ever because I struggled to teach Musical Acoustics last semester.
2. A significant amount of his pieces are written for him, or other non-virtuoso solo performer (or no performer at all). I was happy to realize that I am following his path, as I am interested in developing solo electroacoustic repertoire for the past few years.
3. He is a good and experienced teacher.  I know that there are few things that I could only have learned and understood through teaching. I wonder what Lucier has learned from his students during his years at Wesleyan University.
I have met Lucier twice. The first was at a conference in 2006 where he was a featured artist. I was fortunate to talk to him at the hallway and get a sign on my I Am Sitting in a Room CD.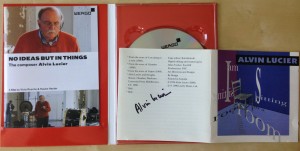 The second instance was purely coincidental. I was at my favorite Chinese Restaurant in Philadelphia, and I found him eating a meal by himself a few tables away from me. I approached him and thanked for all his work, and he informed me that he is visiting Philly to present a concert. I cancelled all my schedules and went to see the concert where he played Opera with Objects (the first piece you see in the DVD trailer.
To end this post, I would like to share my take on I Am Sitting in a Room.