Making Your Life As an Artist by Andrew Simonet is a free, concise book that can be downloaded at the Artists U site. It took me less than three hours to finish the book, but it gave me great tips and advices on how to live a balanced and sustainable life as a musician.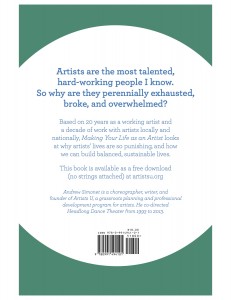 The author is an active choreographer, but the principles discussed in the book can be applied to music (or any other art). I was stressed for not having enough time and space to work  in the past week. After reading this book, I learned good strategies on how to plan, finance, make time, and focus on artistic mission. I'm not so stressed anymore.
The first three chapters discusses about the role of artists in the world, why artist have challenging life, and the skills that artists already have to overcome such challenges. The last five chapters provide practical examples and how-to's on making a living as an artist. I was also enlightened to read about entertainment vs art, science vs art, career vs mission, perfect vs good enough, and other analyses. I particularly love the analogies and examples:
"[Seed savers and some farmers] grow things that don't fit with industrial agriculture. They preserve the seeds for plants we may need someday. This is what artists do culturally." -p29
"Art is not cultural broccoli, something you hate but should consume." – p33
"A lot of artists' lives are built for 23-year-old single, frenetic, healthy, childless workaholics. That doesn't last. Our lives change and our needs change" – p77 
For its price and quality of information, the book has great value for my artist friends. It has even greater value for my non-artist friends since it will help you understand their art/music/dance friends a little better. I am planning to use the book as a reading material for my improvisation ensemble and upper-level music classes. I look forward to have a great discussion with the students about artist sustainability.
 PS: For my musician friends and students who are starting their post-college music career, I also recommend Beyond Talent by Angela Myles Beeching. 
PSS: Since I mentioned about art and dance, here's a little clip on my  collaboration with a dancer friend.